Check back frequently for New Upcoming Seminars Dates
OR
Contact APC for custom in-person training seminars
Upcoming 2-Day NSPIRE Training Seminar
2-Day on October 26-27, 2023
with optional virtual exam October 30, 2023
from: 8:30 a.m. - 4:30 p.m.
Hosted by:
Pinellas County Housing Authority

Located at: Pinellas County Housing Authority
11479 Ulmerton Road; Largo, Florida 33778
PLEASE REGISTER BY OCTOBER 13, 2023 TO GUARANTEE YOUR SEAT!
Cancellation Policy: If you are unable to attend this seminar, you must notify APC via email 5 days prior to the seminar to receive a full refund. If you cancel less than 5 days prior to the seminar or do not show up a cancellation fee of $75.00 will be assessed.
* Not guaranteed to receive training materials prior to start date.
Upcoming 3-½ Day UPCS/NSPIRE Virtual Online Training Seminar
3-½ Day on December 5-7, 2023
with optional exam December 8, 2023
from: 8:00 a.m. - 12:15 p.m. EST
PLEASE REGISTER BY NOVEMBER 22, 2023 TO RECEIVE MAILED TRAINING MATERIALS PRIOR TO WEBINAR
*IF YOU REGISTER AFTER THE ABOVE DATE THE TRAINING MATERIALS ARE NOT GUARANTEED TO BE RECEIVED PRIOR TO TRAINING START DATE.*
Cancellation Policy: If you are unable to attend this seminar, you must notify APC via email 15 days prior to the seminar to receive a full refund. If you cancel less than 15 days prior to the seminar or do not show up a cancellation fee of $75.00 will be assessed.

UPCS Training - Stay REAC Ready for HUD's New COVID waivers and NSPIRE

A Major Change to the REAC Inspection is COMING - ARE YOU REAC READY AND NSPIRED? HUD plans to implement the following changes in 2021:
14 Day Notice
In 2019 HUD drastically reduced the notice for REAC inspections for private and multifamily housing. HUD's new standard provides PHAs and private owners of HUD assisted housing 14 calendar days' notice before an inspection. This is a huge reduction from the previous 90 to 180 day notice. Over time this will change the way that inspections are assigned to the contract REAC Inspectors. The current practice is via the Reverse Auction which is likely to go away for some or all segments of the REAC inspections by 2022 and roll into NSPIRE. The plan is for HUD to issue limited delivery contracts to a few larger nationwide inspection companies which will then employ the contract inspectors. This is similar to what APC started with in 1998. And, just to note in the REAC pilot program in 1998 we were only required to give the property a 10 days' notice.
Inspection Scoring
APC has learned from REAC, there is a plan to change the Unit scoring value to 50% - 65% of the property score. The Unit scoring is currently only 35%. The plan is that the other four inspectable areas would be combined into two areas to "simplify" the scoring: Outside and Inside. Site, Building Exterior, outdoor Common Areas and outdoor Building Systems would be combined to "Outside." Interior Building Systems and interior Common Areas would be combined to "Inside." Thus, there would be only 3 inspectable areas left for the scoring: Unit, Outside, and Inside. This will take a congressional action to change since the current scoring system is mandated by federal law.
Self-Inspections
Currently, the UPCS-V pilot (conversion from HQS inspection) has developed a successful handheld/software solution that inspectors use to report annual/biannual inspection results directly to HUD. In fact, during the recent government shutdown, UPCS-V pilot program inspections continued and over 3,500 inspections were completed during the shutdown. A similar initiative is being considered to develop software for the properties to do their annual UPCS inspections and upload the data to HUD for "analysis of the data." This information may then feed into the periodicity of the REAC inspection. Since 2019 is also a pivotal year for the conversion of HQS to UPCS-V, the expectation is that this UPCS self-Inspection initiative is further down the road. Although, a parallel effort would align the inspection protocols between UPCS and UPCS-V, which has been a REAC strategic goal for a long time.
These changes will ensure that properties are in a continuous state of full readiness and compliance. APC is the leader when it comes to these NEW CHANGES. We have been tracking them since they were first proposed.
APC expanded its UPCS knowledge beyond the basic inspection and is versed in all aspects of the Public Housing Assessment System (PHAS) Physical Inspection Subsystem (PASS). We have incorporated our knowledge and inspection experience into a comprehensive UPCS training program which focuses on improving your physical score.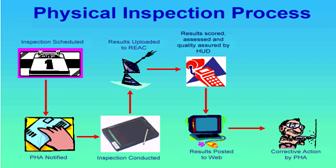 APC's training provides:
A clear understanding of UPCS definitions and identification of notable deficiencies with regards to building exteriors, building systems, common areas, and building interiors (units)
A clear understanding and identification of UPCS Health and Safety Deficiencies
Details of how to improve the PHAS Physical Indicator Score

The UPCS inspection time line
The REAC Inspectors Code of Conduct
HUD Rules and Regulations Applicable to the REAC-UPCS and PHAS Physical Indicator
APC's training covers the Inspection Process from both the REAC Inspector's perspective and the Housing Authority's perspective: What to do Before, During, and After the REAC Inspection. How the Physical Inspection Breakdown Structure (PIBS) is used to classify a defect is explained. The five inspectable areas are defined: Site Building Exterior, Building Systems, Common Areas, and Units.

| Area | Max Point Loss |
| --- | --- |
| Site | 7.5 points |
| Building Exterior | 10 points |
| Building Systems | 10 points |
| Common Areas | 10 points |
| Dwelling Units | 5 points |
The four items needed to classify a defect a presented: Inspectable Area, Inspectable Item, Defect and Severity Level are reviewed. Going beyond what a REAC Inspector does, the class learns how Criticality and Item Weights are used to calculate the point deduction for each defect that is reportable. With APC as your UPCS trainer, each attendee will receive a UPCS Presentation Notebook, Inspector's Field Guide, Compilation Bulletin, Interactive Class Activities, Practical Exercises, Inspection Forms, PIBS Table, High Point Loss Items, Exigent H & S Form and Software.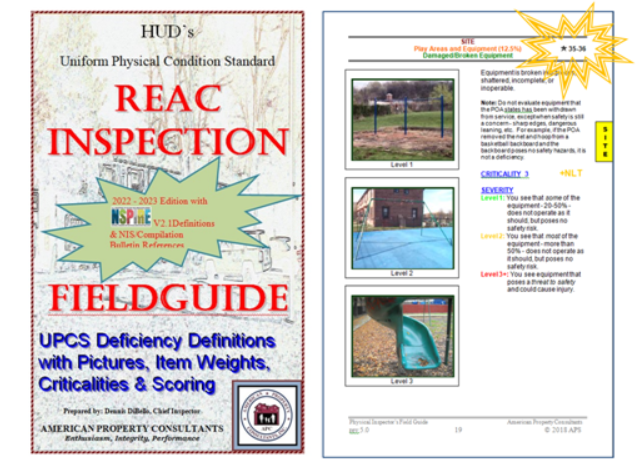 Now with Convenient Tabs to Easily Locate Inspectable Areas and Includes 10/2/17 Compilation Bulletin, Non Industry Standards References, & NSPIRE references
Uniform Physical Condition Standards
PHAS Introduction
PASS Subsystems
CFR Notices
PASS Breakdown
Standardizing Observations
Classifying a Deficiency
Planning the Inspection
Conducting the Inspection
HUD Software
Forms
Daily Functions
Site
Building Exterior
Building Systems
Common Areas
Dwelling Units
Health and Safety
Inspection Results
Appeals
Thanks also for your excellent training sessions on UPCS protocol. I am still getting positive feedback from the attendees.
Your training, UPCS inspections, and shadowing all were a big part of our improved scores.
I received unsolicited comments from the staff regarding the effectiveness of the "feet on the ground" training. That really seemed to pull it all together for the group.
I am happy to tell you we are scoring in the 90's so far at 4 of our sites.
This was my fifth REAC training. This one was the most informative.
I now have a better perspective of how the various inspection procedures the seminar dealt with pertain to HUD rules/regulations/guidelines.
UPCS Seminar – Information Request