Upcoming 2-Day UPCS Seminar
2-Day on October 17 & 18, 2018
Hosted by:
Housing Authority of Gloucester County
Located at: Deptford Park Apartment Community Room
120 Pop Moylan Boulevard, Deptford, NJ 08096
Timeframe: 8:30 am – 4:30 pm
DEADLINE FOR REGISTRATION: October 10, 2018
Upcoming 2-Day UPCS Seminar
2-Day on October 24 & 25, 2018
Hosted by:
Virginia Association of Housing and Community Development Officials

Located at: Virginia Housing Center / Innsbrook Corporate Center
4224 Cox Road, Glen Allen, VA 23060
Registration starts at 8:00 am
Seminar from 8:30 am - 4:30 pm
For more information, contact:
VAHCDO, Attn: Valerie Hill Neal, PO Box 797, Newport News, VA 23607.
DEADLINE FOR REGISTRATION: September 24, 2018

Training

APC expanded its UPCS knowledge beyond the basic inspection and is versed in all aspects of the Public Housing Assessment System (PHAS) Physical Inspection Subsystem (PASS). We have incorporated our knowledge and inspection experience into a comprehensive UPCS training program which focuses on improving your physical score.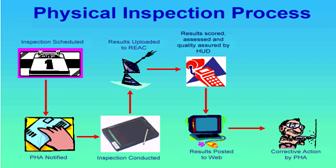 APC's training provides:
A clear understanding of UPCS definitions and identification of notable deficiencies with regards to building exteriors, building systems, common areas, and building interiors (units)
A clear understanding and identification of UPCS Health and Safety Deficiencies
Details of how to improve the PHAS Physical Indicator Score

The UPCS inspection time line
The REAC Inspectors Code of Conduct
HUD Rules and Regulations Applicable to the REAC-UPCS and PHAS Physical Indicator
APC's training covers the Inspection Process from both the REAC Inspector's perspective and the Housing Authority's perspective: What to do Before, During, and After the REAC Inspection. How the Physical Inspection Breakdown Structure (PIBS) is used to classify a defect is explained. The five inspectable areas are defined: Site Building Exterior, Building Systems, Common Areas, and Units.

| Area | Max Point Loss |
| --- | --- |
| Site | 7.5 points |
| Building Exterior | 10 points |
| Building Systems | 10 points |
| Common Areas | 10 points |
| Dwelling Units | 5 points |
The four items needed to classify a defect a presented: Inspectable Area, Inspectable Item, Defect and Severity Level are reviewed. Going beyond what a REAC Inspector does, the class learns how Criticality and Item Weights are used to calculate the point deduction for each defect that is reportable. With APC as your UPCS trainer, each attendee will receive a UPCS Presentation Notebook, Inspector's Field Guide, Pocket Guide, Compilation Bulletin, Interactive Class Activities, Practical Exercises, Inspection Forms, PIBS Table, High Point Loss Items, Exigent H & S Form and Software.
Uniform Physical Condition Standards
PHAS Background/Subsystems
PASS Protocol
Interim Rule Update
Inspection Requirements
Data Collection

» Software Demonstration
» Forms Review
Site
Building Exterior
Building Systems
Common Areas
Dwelling Units
View
Sample Flyer, Registration Form
, and Agenda for APC's
1-Day
and
2-Day
UPCS/REAC Training.
UPCS Seminar – Information Request