Go Green

Upcoming Events
APC is a member of the Calvert County Citizens Green Team which hosts an Annual Green Expo. The 6th Annual Green Expo will be held on Saturday, May 3, 2014 at the Annmarie Sculpture Garden and Arts Center. Please visit
www.calvertgreenexpo.org
for more information.
Recent Events
September 27, 2009; 11:00 a.m. - 4:00 p.m.
At the Jefferson Patterson Park & Museum
Hosted by the Calvert County Citizens Green Team
Co-sponosored by the Friends of Jefferson Patterson Park
Green Building Forum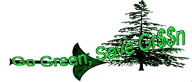 American Property Consultants, Inc. was pleased to participate in the Green Building Forum presented by the St. Mary's County Commission on the Environment. This event brought together local and regional vendors, companies, and experts to provide attendees with information on green development, green building technologies, and sustainable practices that homeowners can use to save precious environmental resources and their hard-earned dollars.