NSPIRE'ing Times Coming Very Soon
Will You Be Ready?
NSPIRE GET READY SERIES - Inspection Timeframes
Everyone will receive a 2022 REAC-UPCS Inspection to be updated on their past cyclic REAC inspection. Your first NSPIRE inspection date will be determined by your last UPCS score:
60-80 = 1 year,
80-89 = 2 year,
90+ = 3 year
Public Housing Authorities (PHA) - April 1, 2023
During 2023, HUD will inspect the roughly 2200 PHA properties that scored lower than an 80 during their 2022 UPCS inspection.
During 2024, HUD will inspect the PHA properties that scored between 80 and 89 during their 2022 UPCS inspection.
During 2025, HUD will inspect the PHA properties that scored between 90 and 100 during their 2022 UPCS inspection.
Multifamily Properties / Housing Choice Voucher - Oct 1, 2023
MF & HCV will start inspections later in 2023 after PHA's inspection commences.
As a Nationwide Inspection & Consulting Company, American Property Consultants, Inc. (APC) performs a wide variety of services to assist you in all your inspection needs.
For property managers and housing agencies:
We can perform Pre-REAC Inspections for your properties. Having Pre-REAC inspections performed before HUD comes can assist you in achieving a higher REAC score and enable you to make repairs in advance.
In addition to our Pre-REAC Inspections, APC can even conduct UPCS inspections for your agency or train your inspectors via our Two-Day UPCS Training Seminar.
We offer training materials for purchase including our UPCS Field Guide and UPCS Pocket Guide.
We can also perform Energy Audits, Capital Needs Assessments, Physical Needs Assessments, Utility Allowances, Green Physical Needs Assessment, Rental Assistance Demonstrations and HQS Inspections.
New Changes Coming to UPCS
The New REAC Inspection for a New Era: National Standards for the Physical Inspection of Real Estate (NSPIRE)
HUD has announced a wholesale reexamination of REAC's inspection process and other improvements to focus on the quality of the housing for residents. The new inspection model will:
Protect the health of residents by addressing lead-based paint, mold, and other health and safety hazards
Increase consistency, accountability, objectivity, and simplicity
Prioritize health, safety, and functional defects over those about appearance
Better identify substandard properties and determine which owners are providing safe, healthy, and decent housing
HUD will meet these goals by:
Reducing the amount of inspection notice to 14 calendar days. This change became effective March 25, 2019.
Testing additional changes through a two-year, voluntary Demonstration to begin in 3rd Quarter Fiscal Year 2019 with preference to HUD Region III (PA, DE, MD, DC & VA).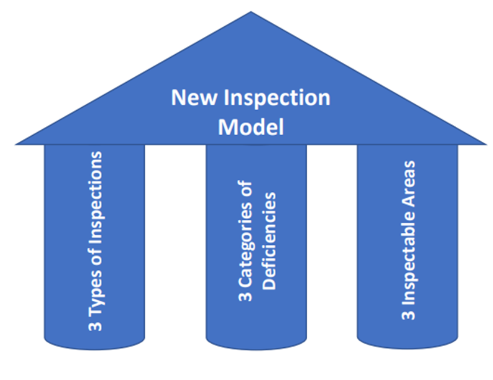 The 3 Types of Inspections are:
POA Self Inspections
REAC Contracted Inspections
HUD Quality Assurance Inspections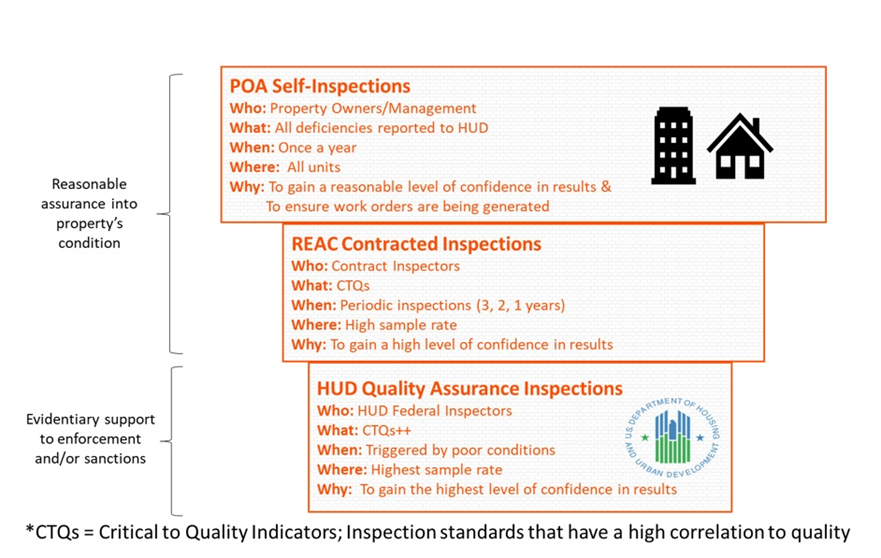 The 3 Inspectable Areas are:
Dwelling Units
Inside
Outside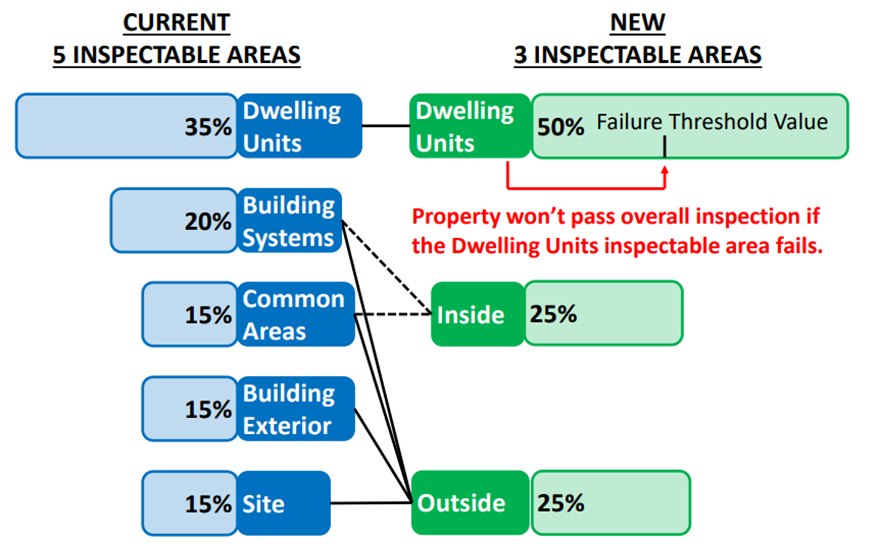 APC is up to date on these changes: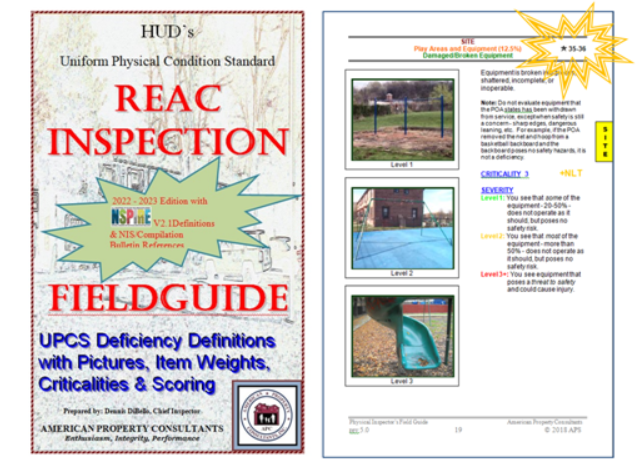 Now with Convenient Tabs to Easily Locate Inspectable Areas and Includes 10/2/17 Compilation Bulletin, Non Industry Standards References, & NSPIRE references
Compilation Bulletin RAPID 4.0 Version 3
HUD has released version 3 of the compilation bulletin which will apply to the UPCS Protocol, beginning October 2, 2017. It incorporates all previous guidance that HUD has given on several matters pertaining to physical inspections. It provides answers to some of the most common questions received from inspectors in the field and clarifies certain areas of the inspection protocol to further ensure that physical inspections are objective and conducted in accordance with the protocol. This will affect your UPCS inspections, be sure to attend one of our UPCS Trainings or get a quote for a Pre-REAC inspection for your property, so you will be ready for this change.
Click Here to download HUD's Compilation Bulletin RAPID 4.0 Version 3
Click Here to download HUD's NIS / ODs - Final Decisions - May 2019
For home and business owners:
American Property Consultants can assist you with both Residential and Commercial Energy Audits. Did you know that 20%-30% of a home's energy usage is lost due to air infiltration? APC's Energy Audit with Blower Door Test can help isolate air leakage problems in your home and identify other causes of high utilities bills. Having a Commercial Energy Audit conducted by APC can zero in on high usages and peak loads. APC also performs IECC Code Inspections, duct blaster tests, thermography, and special inspections.
Thinking of buying or selling a property?
American Property Consultants conducts Property Inspections for homes and commercial properties. Having a Property Inspection done Pre-Purchase/Pre-Sale can inform you of any damage or defects with a home or building, before it's too late.
We are proud to provide rating services to qualify new homes for the ENERGY STAR® label. ENERGY STAR qualified new homes are substantially more energy efficient than homes built to the minimum code requirements. Even in states with more rigorous energy codes, the U.S. EPA ensures that ENERGY STAR remains the symbol for truly energy-efficient performance. These homes are good for businesses, consumers, and the environment.
Click here to learn more about ENERGY STAR qualified new homes.

American Property Consultants, Inc is proud to work with Maryland Energy Administration Home Performance with ENERGY STAR program in Maryland to deliver whole-house energy savings to improve comfort and help protect the environment.

APC is an independent consultant and does not sponsor, recommend or endorse any third party product or service, or any contractor's ideas or advice. We work solely for our clients.
We do not sell or share customer private information.
APC is a partner or member of the following organizations, employ individuals who are members, or certified individuals of the following organizations: