REAC Inspection Field Guide App

REAC Inspection Field Guide App
American Property Consultants (APC) has captured their experience of inspecting over 150,000 units using the new HUD REAC inspection protocol by updating their published field guide. This app brings the field guide to your finger tips at all times and allows you to easily look up defects severity levels and descriptions.
The Physical Inspector's Field Guide details the new inspection definitions and illustrates the severity level by providing photos of actual defects. The new field guide has more pictures, more color enhancement, more on calculating scoring, and examples of the new scoring table under the new RAPID inspection software that the inspector will start using in 2013.
The field guide contains over 300 color photos. APC has also developed a unique physical inspection point preservation strategy that once employed can prevent major point losses. APC's 150 page, UPCS Inspector's Field Guide is much more than just the set of inspection definitions. There are color pictures of each defect to illustrate the detail, color coding of severity levels to show the relative scoring importance of each item. Each Health and Safety item is noted in color as Not Life Threatening or as Life Threatening. Criticality is listed to facility the calculation of the scoring point loss for each item.
Some of the changes include a change to PHAS scoring providing a point loss cap, which limits the amount by which a single deficiency in an inspectable area could reduce the overall property score. The maximum point loss deduction for a single item is now:
Click below to purchase the REAC Inspection Field Guide App!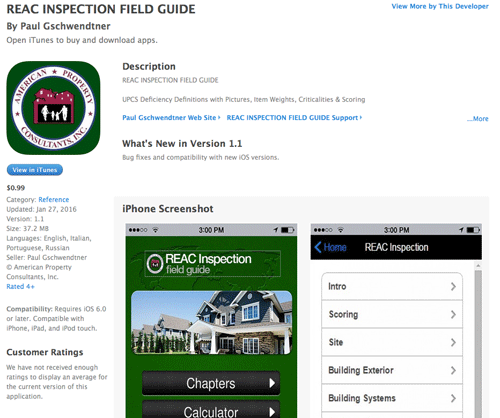 https://itunes.apple.com/us/app/reac-inspection-field-guide/id947012802?mt=8